ELM3's Fall Financial Fitness Challenge
By: Stacey Nickens
The past few weeks have featured a mixed bag of news, and you may be struggling to sit still among all of this chaos. I am thus challenging you to take one week to improve your financial fitness. This 1-week challenge features a task each day that can help you increase your savings, better manage your assets, and even care for your health.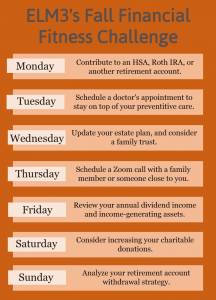 For Day 1, consider increasing your contributions to an HSA or a Roth IRA.
You can contribute up to $3,600 to an HSA if you're single and up to $7,200 if you're married filing jointly. All household members above the age of 55 can also add an additional $1,000 in catch-up contributions. HSA contributions have the duel benefit of reducing your taxable income for 2020 while also helping you better prepare for your medical needs in the future.
You can also reduce this year's taxable income by upping your other retirement account contributions
. If you're comfortable paying higher taxes now but would like lower taxes down the line, a Roth contribution may be in your best interest.
For Day 3, review your estate plan and beneficiaries.
I've been recommending clients look into a family trust that includes their house and other shared assets. With a family trust in place, your assets could more easily pass to the surviving spouse and then future beneficiaries. Along these lines,
on Day 4, set up a Zoom call with a family member.
Besides getting the mental boost of connecting with someone you care about, you can discuss your estate plan and make sure you're on the same page.
You can keep up with the challenge on our
Facebook page
. Let us know how your Financial Fitness challenge goes, and I hope it provides you with a sense of security during these challenging times.
Disclosures: Past performance is not a guarantee or a reliable indicator of future performance. All securities carry a unique set of risks subject to a variety of factors. There is no guarantee that these investment strategies will work under all market conditions or that they are are suitable for all investors. This material has been distributed solely for informational purposes and should not be considered as individual investment advice or recommendation. Individuals should consult their investment professional prior to making an investment decision.