Tip of the Day: Delay Taking Social Security Benefits
By: Stacey Nickens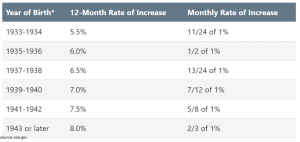 In general, I encourage clients to delay taking Social Security whenever possible. Doing so can allow you to access Delayed Retirement Credits. Beginning at your Full Retirement Age, you can take Social Security without facing a penalty; however, for every year you wait to take Social Security after your Full Retirement Age, your benefit will increase. For many people, your benefit will increase 8% each year between your Full Retirement Age and the year you turn 70.
For example, pretend you were born after 1943 and your Full Retirement Age is 67. However, you delay taking Social Security until you turn 70. Your benefit will increase 8% annually through the year before your 70th birthday. This delayed retirement increase is in addition to the cost-of-living increase applied each year. Your benefit will reflect your earned credits beginning in January of the year of your 70th birthday. You can use this online calculator to see how this would apply to your situation.
Curious about more retirement tips? Read more about spending habits and retirement savings here.
Disclosures: There is no guarantee that these strategies are suitable for all individuals. This material has been distributed solely for informational purposes and should not be considered as individual advice or recommendations. Individuals should consult a Social Security professional prior to making any decisions.